Enjoy Menorca with our motorhomes
The ROLLER TEAM Kronos 294 TL motorhome has a capacity of up to 5 people. It has a full kitchen and bathroom, a coat rack, ample storage spaces and a large garage. Perfect for small families. All the comforts of a motorhome in 6 and a half meters.
Traveling in a motorhome gives you a freedom that other forms of travel do not allow you, you set the pace, enjoying the small pleasures of discovering the world without hurry. Having all your things at hand in your little house on wheels, with the freedom to improvise the trip by shortening or lengthening the stay in a place.
With our Illa de l'Aire and Illa d'en Colom motorhomes you can reach the most emblematic corners of Menorca. The island is a paradise for all ages and especially for children, who will leave with magical memories.
The KRONOS 294 TL is a fully equipped vehicle with a very cozy and comfortable environment, it lacks nothing!
It has a transverse double bed in the back and another folding double bed. With an L-shaped living room that can be converted into a single bed so that up to 5 people can sleep. It has a sophisticated design with a large number of led lights, a kitchen with a maxi fridge, and a full bathroom. In terms of storage, it has an XL coat rack, numerous loft chests, enough space to store all your luggage without any problem.
The KRONOS 942 TL also has a large garage with the capacity to store your bikes and your suitcases.
Thanks to Breathe technology, the environment is always healthy, well ventilated and without condensation.
Be surprised at how easy it is to drive a 6 and a half meter motorhome, you don't need more to move around Menorca.
It is equipped with a diesel engine, power steering… Very easy to drive. She will take you wherever you want, as long as you treat her like love.
It will be easy to get used to the pleasure of traveling in a motorhome. Come meet us!
Discover all the corners of the island to the rhythm of Menorca.
From Monday to Friday from 9th January, February, March, November and December until the 23rd.
*Except bridges and holidays
Minimum reservation of 2 nights
Weekends from 9th January, February, March, November and December until the 23rd.
*Except bridges and holidays
Minimum reservation of 2 nights
April, May, June until the 17th,

September from the 19th and October.
*Excluding Easter
Minimum reservation of 3 nights
Easter, from June 18th to 30th, from September 1st to 18th. Christmas from December 23rd to January 8th.
Minimum reservation of 4 nights
From July 1 to August 31.
Minimum reservation of 6 nights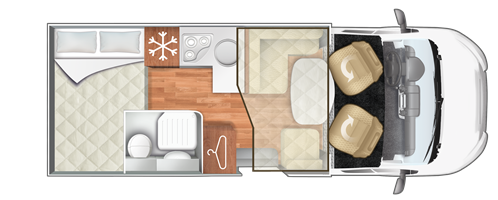 Pleated cab blind

Rear view camera

Hot water

Gas cooker

Bathroom with separate shower

Heating

Large garage

Clear water tank (118l) and gray water (90l)

Refrigerator (135l)

LED interior lighting

Door mosquito net

Security locks
Unlimited mileage

All-risk insurance with excess of 1,000 Euros

Gas cylinders.

Extinguisher

Kitchenware and utensils (plates, glasses, cutlery, pots, pans, drainer, kitchen utensils and coffee maker)

Bedding (cushion, set of sheets and set of towels)

Cleaning set

Pet friendly (see conditions)

21% VAT

Chemical toilet liquid

Leveling wedges

Drinking water hose

Network cable extension

Network plug adapter

Cabin climate control

Basic first aid kit
Model: Kronos 294 TL
Technical data:
Mechanical unit

Fiat Transit

Engine

2,0 TDCi 130CV

Weight unladen in running conditions (Kg)

2885
Dimensions and places
External and Internal Height (cm)

295 / 208

Berths: 4 + 1

Rear Bed (cm)

215×133(116)

External length (cm)

647

External width (cm)

235

Height

(cm)  265

Homologated seats

5

 (2 front, 3 rear)
Included in the rental price!
Unlimited mileage

All-risk insurance

Gas cylinders.

Kitchenware and utensils

Bedding 

Kitchenware and utensils

leveling wedges

drinking water hose

Cabin climate control

Do you have doubts?
Don't worry
In the section of general rental conditions we have included all the details that you must take into account before renting a camper or motorhome.
You can also contact us through the contact form, we will personally help you to resolve any questions that may arise about the rental of your camper or motorhome.
We will be happy to advise you!